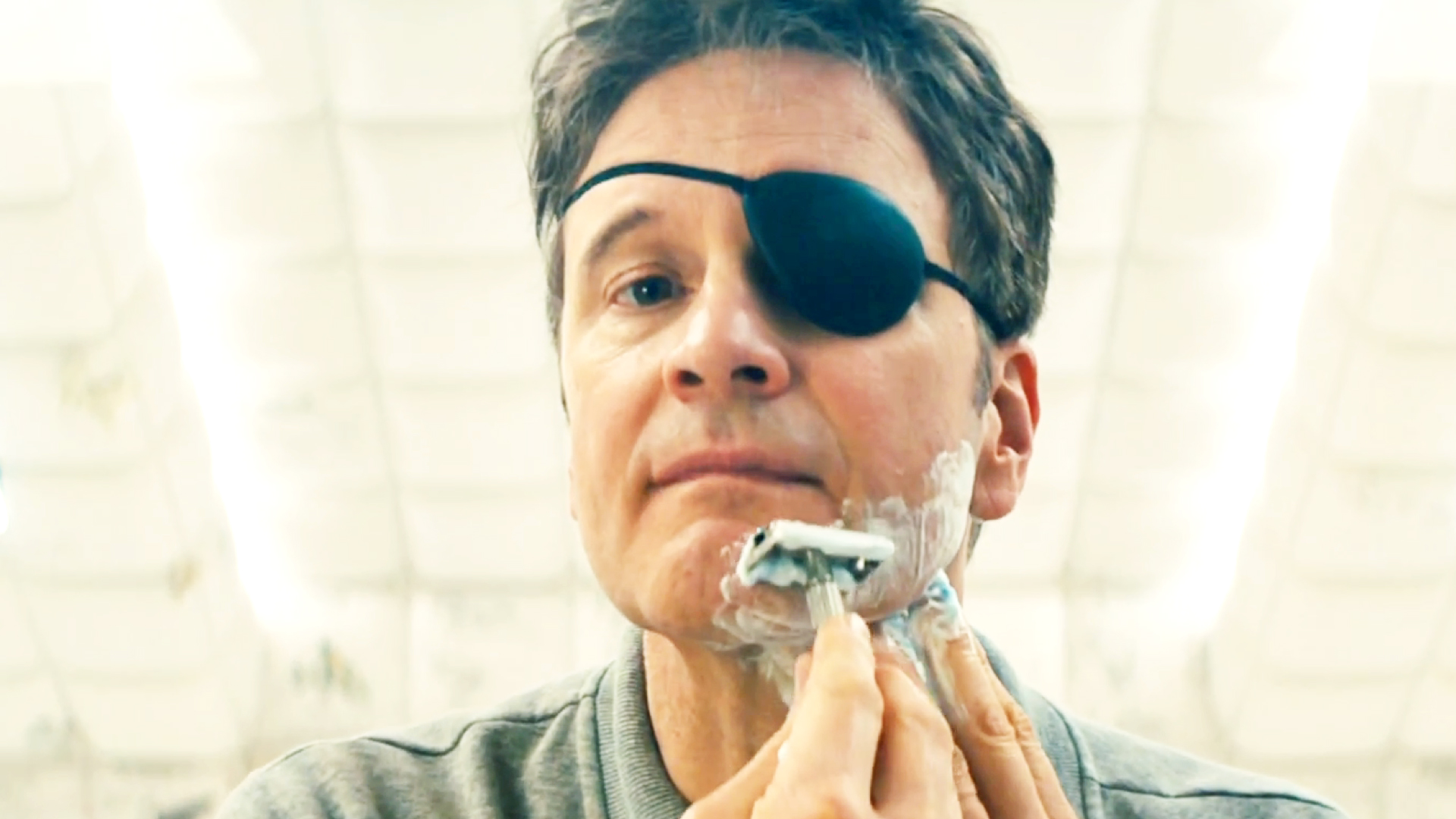 Cutting yourself shaving was a lot worse when trying to shave one's eyebrows.
*AS USUAL, HEAVY SPOILERS FOLLOW. YOU HAVE BEEN WARNED.*
I've been at university for the past two weeks, how about that? After I'd moved in and met all my flatmates, one of the first things we decided to do before we even knew each other properly was to go to the cinema. I ruled out Stephen King's IT immediately because, as we've learned from my Alien: Covenant review, I despise horror. That sort of only left one more thing we could conceivably see, and that film was Kingsman: The Golden Circle.
This is a direct sequel to the original film (Kingsman: Secret Service) from 2014. One of the recruits from the original agent programme has returned for revenge, working for an insidious drug lord, Poppy (how original), who runs a sinister organisation called the Golden Circle. She injects all her drugs, which are distributed worldwide, with a virus, and after the Kingsmen are all but wiped out they are are forced to activate the Doomsday Protocol and team up with their American cousins, the Statesmen (imaginative, I don't think) to save the world.
The Good:
There was a lot to be said for the refreshing take on the spy movie offered by the original. The fast pacing, imaginative and multi-layered characters, if a little cliche in places, and overall aesthetic were enjoyable, it must be said. Unfortunately, as with Guardians of the Galaxy 2 (*shudders*), this sequel takes all that was good with the first one and runs with it to the extent of over-saturation. But we're not here to discuss the negatives, at least not yet, so let's crack on with a few of the things which were actually interesting. There are some lovely scenes with puppies, which were enjoyable to look at. Some of the little nods to the movie's form, like naming the two robotic guard dogs of a 70s-America recreational villain hideout 'Benny' and 'Jet'. These little details are very clever, and the film is… Not that full of them, at all, and this is in fact the only example I can think of. Moving on, there is a very cool three second shot of a fighter jet called the 'Silver Pony' as it soars through the skies. We all know how much I adore the Transformers franchise, so I'm a sucker for moments of military tech glinting in the sunlight. There were also a few cool moments in action scenes which really flowed, like a suitcase folding out into a riot shield. Interesting, but less a silver lining and more a single pinprick of sunlight smothered by dogshit-brown clouds.
To be Improved:
There's no easy way to do this, and I don't particularly want a repeat of the huge paragraph of pessimism you had to read in the GotG 2 review, so I shall just list the negative points for easy access:
The constant whirling of the camera during fight scenes, which (though it has become the style of the Kingsman movies and is impressive because it is usually all one shot or at least looks like it) is nausea-inducing and looks CGI (translation: fake) as hell.
Like Guardians of the Galaxy, the constant ruining of epic moments for a little shot of humour ("That's the only decent shit I've had in three weeks" springs to mind) is infuriating, and as soon as it started happening I knew I was going to hate the film.
It's entirely and utterly predictable.
The characters are all uninspired and, for the most part, unlikeable. Besides, Channing Tatum's 'Tequila' (his character was named after one of the liquors, I don't even remember, give me a break) is put on ice, quite literally, when he is cryogenically frozen so we don't even really get to know him, making him pointless.
The overuse of the song 'Country Roads' for almost every establishing shot is ridiculous, and my opinion was not helped by the friendly scouser sitting behind me and singing along every time it played.
There was just something dead about the action sequences. Perhaps it was the fact that, as mentioned above, it all looked FAKE AS HELL. But in all seriousness, the climactic fight ended at the same meat grinder that was already used to chop a person up at the beginning of the film, meaning there was no satisfaction whatsoever, and whenever a character entered a room you could tell what was going to happen simply because of what was around them. Eggsy holds a vial of antidote in front of him; it's obviously going to get smashed. Benny (robotic dog) chases Harry into the salon where the Golden Circle members are given their solid gold tattoos; it's obvious that molten gold and metal don't mix. The list goes on, but I'll spare you the pain.
Let's not even talk about Elton John. His lines were almost as bad as Cogman, the ninja robot butler's in Transformers: The Last Knight. But nothing could ever be quite as bad as "Move, bitch, get out of my way" in an aristocratic English accent, so Golden Circle earns a few points for… Not being the absolute worst, I guess? Whoopty-do.
The plot itself was so… dead-ended. It all came full circle (a golden one, perhaps?) but not in a way that the story was satisfyingly resolved. More in the way that it ended exactly where it started with nothing different than it was at the start. Except Eggsy's now married to the princess he… did anal with at the end of the first film. Incredible, guys, really.
Scenes like the one where a tracker can only be placed on a female victim by putting it directly into her uhm… Well, you can guess, are vile. Look, I'm all for a bit of sexual banter (sort of, in the right context) but when you force me to watch a shot of a tracker implanting itself into literal uterus walls, you've done something wrong.
Overall: 2/10
In case those last few points didn't give a single indication as to what I thought of this film, let me spell it out: it was utterly dire. Watching Golden Circle, I found myself in the same situation I've been in for what are now my last three cinema trips. That being the fact that I walk in, sit down incredibly excited to see what promises to be an amazing movie, and enjoy about ten minutes, but then find my expectations shattered by a throwaway line or moment that makes me cringe like (as I think I said in my Last Knight review) I've just torn a massive chunk out of a lemon. Cinema truly is dying, and I will now enter every film without watching the trailers and with little to no anticipation lest it be destroyed by computer-generated (as aforementioned: fake) action scenes, appalling plot choices and disgustingly awful writing.